About Marta Whistler – Painter & Sculptor
Born in Amsterdam, The Netherlands, and educated in Europe, Canada, Latin America and the United States, American artist Marta Whistler has developed her own unique style as a painter and sculptor. Her paintings feature bold color use combined with striking manipulation of surface texture and a powerful feeling of movement in her Abstract, Figurative, Symbolic and Sculpture art works. In her paintings she shows what one critic called her "complete mastery of line and form." Other critics have praised her ability "in all the styles in which she works, to combine beauty of color, line, and composition with subject matter that evokes emotion in the viewer," and state that Whistler "makes witty and bold use of color and form to open fresh vistas on gender and the body. These are warm, inviting, and challenging works."
Marta Whistler attributes the strength of her color use and the kinetic dynamism of her form to influences as diverse as Native American art motifs, Slavic iconography, and the brilliance of color in Central American costumes. The artist has spent much time interacting with all these cultures as well as with the influences of European and American modernism.
Marta Whistler's large paintings have been displayed in corporate settings and public buildings throughout America. In this area, one of these paintings has been acquired for permanent display in the main lobby of the Shriners' Children's Hospital in Philadelphia.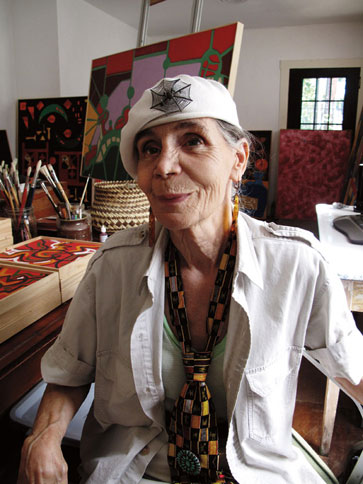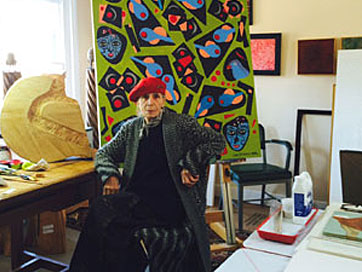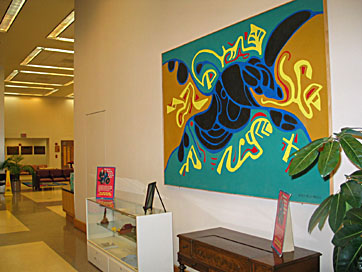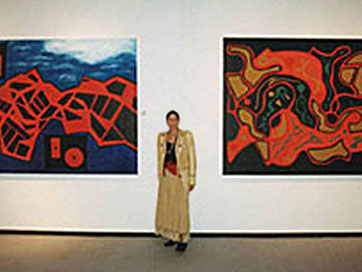 Her figurative and symbolic semi-abstract paintings are noted for daring colors and the prevailing theme of man's place in the universe. Whistler is concerned with the idea of the enslavement of man through forces he does not understand and is also a relief sculptor with Native American influences.
 I work in different styles-symbolism, abstract, semi-abstract, figurative, still life, traditional-and I do not title my work. Whatever the style, there are no titles for my paintings and sculptures beyond their identification numbers because I want to prod the viewer's mind to discern its own patterns, images, and emotional associations. To engage directly with the work of art and through this interaction to experience something unique seems to me much better than submitting to the guidance of a label.
Just as I do not want to lock in the viewer's experience of my work, so I do not want to be locked in myself as an artist by conformity to a single identifying style. My work features bold colors combined with intense layered and textured forms. The statement my art makes usually is seen to be powerful and emotionally evocative. My styles may change, but color and activity of line always exert their influence on my work.