Marta Whistler – News and Events
Marta Whistler comes full-circle, back Easton!
by Ellen Shaughnessy
1/23/2015
I had the privilege of chatting with notable artist Marta Whistler yesterday. I wanted to learn why she lived here for 14 years, then moved to Dallas for a year, and finally landed a full-circle gravitation back to Easton.
E: Marta, people love to retire to warmer climates so why in the world would you move back from sunny, warm Dallas to Easton PA in JANUARY, of all months??
M: Well, as you know my husband Dudley Knight and I created a beautiful home on North 2nd Street. When he passed away in July of 2013, I just could not remain in the home that we worked on together for so many years; it didn't feel right – as lovely as we had made it, I had to get out of that house. I moved to Dallas near my daughter in 2013 and thought I'd settle there. I bought a beautiful arts and crafts house in the historic district and had a nice big studio to work in. Since I had built a solid art reputation in Dallas (I had exhibited in Dallas several years ago), my work was very well received there – over 30 art works sold and 2 large paintings became the property of the Shriners Hospital. Yet, I continued to get calls from clients in NY, collectors in the NE, and friends in Easton: "Marta, we miss you you belong up here!" They were right. There is a great bohemian vibe in Easton and I needed to get back to that. So I found a historic Easton townhome, sold the place in Dallas and moved back this month.
I went to the indoor farmers market and saw the Mayor there last Saturday – he came over to me and gave me a big embrace, and said "Welcome back, Marta!"
I've had this kind of reception from quite a few people in town and I can't explain how good that feels – its like I BELONG here.
As you enter Marta's 1849 townhouse, you are immediately struck by Marta's large colorful works on the walls. A powerful painting hangs over her dining room mantle.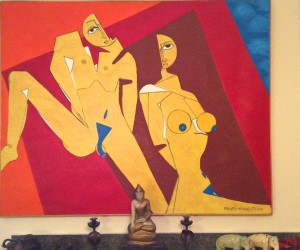 Over Marta's dining room mantle; now we can enjoy it here (not in Dallas or Aspen!)
E: Wow, what's this one titled?
M: No, NO TITLES! I never title my work.
This would be distracting the viewer and I want people to experience it entirely for themselves, without my influence. I want you to see what YOU see. This piece was owned by one of my collectors. They moved to a new property and there was not a good space for it there, so I bought it back for exactly what they had paid 3 years ago they got to enjoy it for 3 years; rent-free!
Pieces like this were not shown in galleries in Dallas or Aspen, even this past year. They would not show any of my works with male genitalia.
E: You've let such an interesting life where did it all start?
M: I was born in Amsterdam, and my family was scattered all over the world. I was fortunate to be able to travel and study art. It started very early, when I was writing free verse poetry. I also could draw very well.
After the war, my parents moved to Canada. My parents were Catholic but my father became agnostic and my mother became interested in eastern religions – so she became a Buddhist for 40 years. I was first a Canadian before an American. I studied art at Vancouver Art School and I also studied art at the University of British Columbia, at the University of Oklahoma, and abroad. My first husband was a noted full professor of Slavic Linguistic at the University of Oklahoma; Dr. Dragan Milivojevic. We had met at the University of British Columbia, many years ago and remained very dear and close friends until his death.
Our family is artistic my one sister is an opera singer and the other is a playwright. My brothers are avid art collectors.
While in Canada, I became very interested in the native Eskimo art. It has such a pure feel. When I lived there some academics had the idea that they would try to teach Eskimo artists proper techniques but the artists were then losing some of the interesting folk elements and the primitive touch in their work; this is something I lecture about. I could teach you techniques but what I cannot teach you is talent or the soul that goes into good work.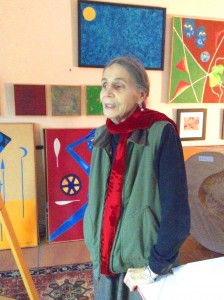 At home, in Easton.
I've lectured about the freedom of art; if you are not always being able to paint or create art just as you like, is it still truly you making art? My feeling is that good art is not compromised. Its value is in the perception of the beholder. I've been told some of my art is erotic. Is it too erotic to you? This may be the way that you interpret it but it is a part of me and what I am feeling. I'm presenting my art and you can take from it what you see; I do not want to interpret it for someone.
My first husband and I grew apart and we went our separate ways. I studied in Mexico for a bit. My second husband was a Native American – his father was the chief of the Sac and Fox tribe (two tribes that came together) and my husband was an oil geologist. This is when I became very involved with Native American symbolism and lore it influenced my work, like the large wooden sculpture piece that I donated to the Sigal Museum [now displayed in the lobby]. After 16 years of marriage, my husband died of cancer I kept his last name.
I would take art workshops wherever I went there must have been 60 of them so far.
Later in life, Marta would marry Dudley Knight, an orator who graduated from the Yale school of Drama he was a voice/speech/dialect expert and stage/TV actor with over forty-years of experience as a speech and dialect teacher and voice director for professional theatre. They settled in Easton where they lived for 13 years or so.
M: He was pretty heavy when we met and I told him that I was concerned about his health. We adjusted the diet a bit to more steamed veggies and plant foods, and cut out a lot of cakes and goodies. He lost about 100 lbs over the years! We would talk about life and how it might end. Dudley said he would want to die quickly and while he was doing what he loved; acting and working on a play. I would say when I reach the end, I hope its with a paint brush in my hand and a quick massive heart attack. The whole world is a play and we all have our roles in it. Dudley's last role was playing King Lear when he had his heart attack and died; he was doing what he loved right until the end and that's my plan too, but not until I'm over 100.
E: What did you want to pack first for your move back – things you could not do without, in case anything was lost in the move?
M: My palette knife and my favorite brushes and my sculpting tools. I like to add texture in my work I have a background in textiles too. I cannot stop making art.
E: What is your favorite work of another artist?
M: I love Kandinsky. And, naturally also Picasso and Matisse. I also really love the German expressionists especially Beckmann. I do appreciate the masters but I'm drawn to bold and powerful work strong pieces.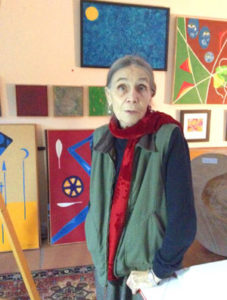 Settling into her Easton studio, take 2.
E: What is your typical day like, and what are you working on now?
M: I work 10-12 hours a day, usually in 4-hour blocks or so and I'll take a break. I work essentially from memory and recall. If I'm waiting for someone, I people-watch and observe forms and faces maybe there is a very strong nose or some mesmerizing eyes that I notice; I make a mental image of it and it will land in one of my paintings. When I see a face I like, I take the best parts. Sometimes I will do sketches and work from those but usually it is just mental images that I reference. Some people need things like alcohol or drugs to help inspire I can certainly understand this but luckily I have not needed it. I don't drink, smoke or do drugs I accept that some find inspiration with these but I've been lucky to never have a need for using these things; inspiration just comes naturally to me. I sit down, and start working immediately.
I don't belong to a church, but I have studied religions and am familiar with the Bible – in the end, I'm agnostic but also very spiritual. I'm currently working on a completely new series of sensuous and highly symbolic work, that should be done by the end of this year.
Since I've been back in town 4 works have already sold. One client of mine in South Carolina has been collecting my work for 38 years and he has 68 pieces of my art. There are many collectors across the US and in Canada and Europe. Its not easy to do the business of art, but like anything it is necessary to work hard and make connections and follow up often to be successful at it.
I had written a free verse manuscript years ago about the plight of the Native Americans when they were involuntarily relocated, in Oklahoma where I lived for a while. When I was living in New Orleans, I was friends with free-form Jazz musicians we hoped to put music to the piece, but the funding fell through to get the project done.
Its a recurring theme you have another art form in music and some very talented musicians that cannot read a lick of music; they just FEEL it and can play it from the soul. This kind of thing cannot be taught. Anyway, I still have this manuscript Trails of Tears and have pitched it to other groups. There might be a chance for it to develop into an interpretive dance piece now; we will see. I realize that I might not make any money from this particular effort but it is meaningful to me and with a Buddhist background, I know that just having the production come to life is really what its about.
E: I wont ask you your age but you look fantastic what is your secret?
M: I do what I love, I walk my dog about 2 miles every day, and I don;t over-indulge. My family has very good genes, and I plan to reach at least 100!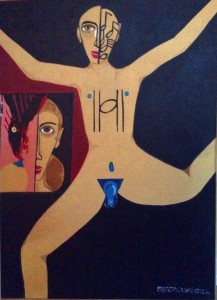 Things you won't see in Dallas or Aspen galleries.
Artist Statement:
Basic themes in my art are my concern and preoccupation with human social and spiritual life. There is in the first place a human predicament to which I return time and again in my works loneliness and isolation of human beings from each other, their inability to bridge and escape the imprisoning shell of their existence through their union with others and through their communion with nature.
I believe that the statements I make are not pessimistic but realistic, although it must be admitted that human beings tend to avoid anything which may remind us of suffering, old age, and death. My work tends to redress this imbalance in our thinking and put our life in its proper perspective by depicting joy along with sorrow, despair along with hope, and life along with death.
My cosmological statements revolve around my belief in they cyclical nature of life and universe, life followed by death and rebirth. The belief in rebirth and resurrection infuses my art with hope, which is often represented by a fiery red sun.